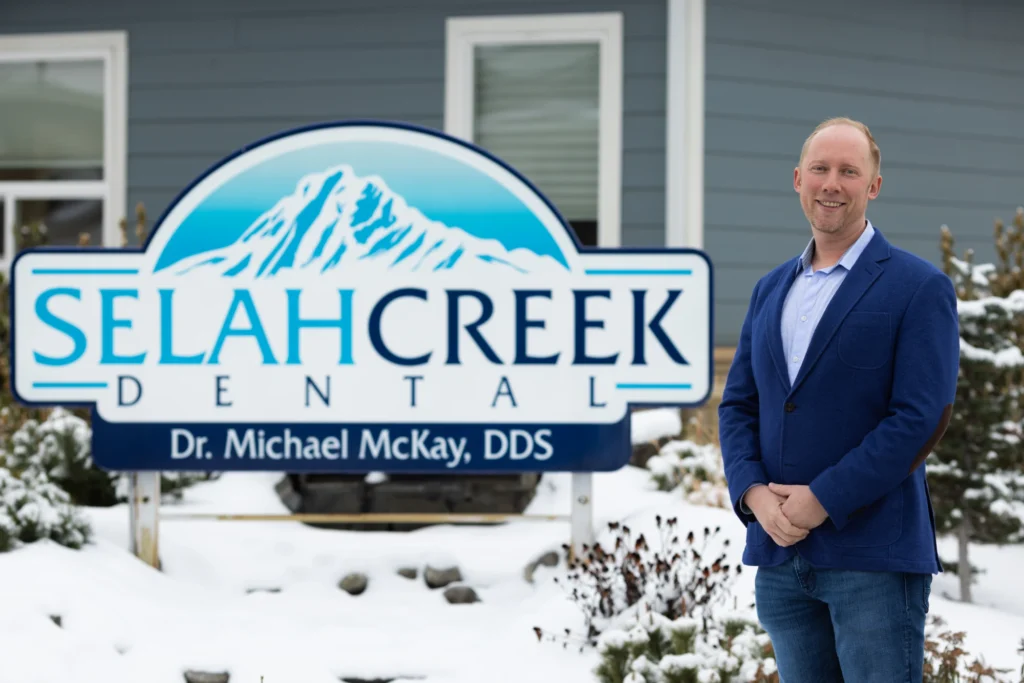 Selah Creek Dental
Expert Dental Care in Selah, WA
$99 New Patient Special
We are currently accepting new patients at Selah Creek Dental! Call to schedule your first appointment with us for just $99! A cleaning, teeth whitening, exam, and X-rays are all included in this Special. Click the link below to give us a call and take advantage of this one-time deal! We invite you to join the Selah Creek family!
Call Selah Creek Dental
Dental
Implants
Dental implants are a very reliable source for effective tooth replacement. Whether you have lost one tooth or many, implants can provide a permanent solution that looks and functions normally. Check out our Dental Implant page for more information, or book a consultation today!
Dental Implants
Flexible Payment Plans
We work to provide affordable dental care and flexible payment options for our patients. We partner with external payment companies, CareCredit, Proceed Finance, Ally Financing, & Denefits, as well as offer an in-house savings plan, VIP Program. Visit our financial page to explore what program is best for you.
Explore Our Financing Options
Bringing Smiles To Selah
Selah Creek Dental provides expert, in-house dental care to the people of Selah, WA, and surrounding areas. Our loyal patients can attest to our attention to detail, empathy, and hands-on approach to dental care that they have always experienced when coming into our office. Dr. Michael McKay and his team are excited to continue serving the community by providing 100% in-house dental care and creating genuine relationships with patients through honest communication and transparent business.
Our office prides itself on the ability to adapt to modern technology for the benefit of our patients while remaining true to our core values. We are here to support you in your oral health, and that means we will provide you with all of your options without any pressure. We've thought of every part of the patient's visit to make it as stress-free and joyful as a dental visit can be. We hope you'll consider Selah Creek as your dental home!
Learn More About Selah Creek Dental in Selah, WA
Insurance Providers
Our office is in-network with major providers including BlueCross BlueShield, Delta Dental, Guardian, MetLife, Principal, United Concordia Dental, and United Healthcare. If you don't see your provider, give us a call and we'd be happy to check if you're covered. We can also file and track your claims for you to ensure that you're getting the most out of your benefits. We just ask that you bring your insurance card to each appointment, so we can make sure your information is as up-to-date as possible.
More Financial Information
Alternative Payment Options
Quality oral health care is an investment, but it's not an investment that should break the bank. At Selah Creek Dental in Selah, WA, we offer a variety of payment options and financing plans that allow patients to get the dental care they need, right when they need it! Rest assured that our goal is to help you receive dental care at a cost that won't strain your wallet.
External Payment Plans
VIP Program
100% In-House Dental Practice with a Patient-Centric Approach
At Selah Creek Dental we offer the best of both worlds: modern amenities and technology with a warm and friendly atmosphere. We also recognize the importance of listening to our patients and helping them choose the best treatment option to fit their needs. Regardless of the treatment, our commitment to excellence and our passion for improving the health and beauty of your smile is what sets us apart.
Reinvent Your Smile with Dental Implants
When it's time to replace a missing or broken tooth, dental implants are your long-term solution for a natural smile. Dr. McKay's expertise in restorative dentistry ensures a stunning porcelain restoration and a comfortable process for you and your smile!
Check Out Our Dental Implants Page
"Was scheduled for a cleaning and asked about a tooth that had been bothering me, they did a root canal the same day, right after my appointment! Was very appreciative to get that taken care of so fast!"
- Kim K.
"I called to schedule my daughter an emergency exam due to her crown falling out. The appointment coordinator at Selah Creek did an amazing job getting my daughter in right away. They replaced the crown! I was very pleased with the care my daughter received."
- Amy R.
"It's always a good experience to go here. Excellent dental work and you can tell everyone loves their job. It's a happy place to be. Very calming. I look forward to my dental appointments for the first time in my life. I'm 71 and that is a lot of years and many different dentists. SELAH CREEK DENTAL is the place to go."
- Andrea V.
"I have never had a bad experience at any appointment I've had with them, they have always been very polite, and have always reassured me of any worries or uncertainties I've had with procedures done with them."
- Julianne F.
"Always a great experience. Caring and friendly. Concerned for your comfort. Selah Creek Dental makes you feel very comfortable, they are easy to talk to and always concerned about your comfort."
- Catherine L.